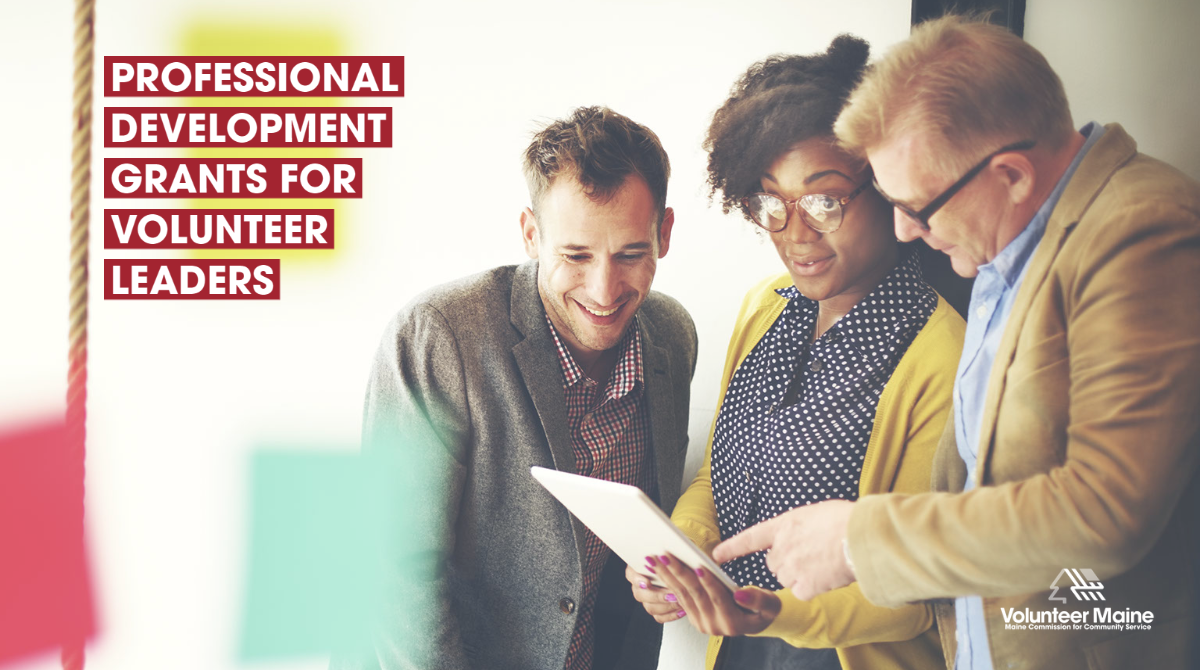 Volunteer Maine, the state service commission, supports professional development of managers of volunteers by awarding funds to cost-share their educational or training activities.
Examples of supported activities are online courses, educational conferences, seminars, workshops, or preparation for professional certifications that relate to
Under a cost-share award, recipients must cover at least 25% of the expenses and the maximum award is $750. Funds awarded may not be used to provide the recipient with a stipend, living allowance, or reimburse an employer for salary. Recipients may direct the Commission to pay the award to either their organization as reimbursement or as partial payment to the institution or business conducting the activity. In any case, funds cannot be paid directly to an individual.
Application cycle
Professional Development Fund applications may be submitted at any time.  Applicants should bear in mind that the educational or training activity as well as the requirement to share with other managers of volunteers must be completed within six months after the month in which the award is made.
Key application dates
Submission deadlines
Monthly -- submit by the 20th of the month. Applications are reviewed at the end of each month.
Award notifications
Awards are announced following consideration by Volunteer Maine's Excellence & Expertise Task Force, who meet on the first Wednesday of each month.
Activity completion deadline
Within six months of application approval.
Eligibility criteria

To be eligible for consideration, an individual must be:

employed by a Maine unit of local government, public or private nonprofit, or Maine affiliate of a national charity that engages citizens as volunteers in Maine communities 
OR 
serve in a pro bono capacity in the volunteer program of such organizations with responsibilities that are equivalent to those of an employee (e.g., training, supervision, assessment of volunteers performing service).  
have at least two years of experience as a volunteer coordinator or in volunteer program management. 
have a supervisor-approved professional development plan that identifies specific skills, knowledge, or abilities related to volunteer management that require formal training or education. 
able to complete proposed professional development activity by December 31 of the year in which the award is made. 
share information and learning from the professional development activity by  conducting a session at the state volunteerism conference OR contributing an educational article to the statewide newsletter (Maine Volunteer Fare), or conducting a webinar hosted by the Commission.

Selection

All applications will be reviewed by Volunteer Maine staff. Recommendations for awards will be presented to the full Commission for approval before any recipients are notified. The task force or Commission are not obligated to award any funds and may make awards that are less than the amount requested.

Selection decisions will be made using the following criteria:

Relevance of the activity to Competencies for Managers of Volunteers.
Relevance to the activity of service learning within a youth program or classroom setting.
Relevance of the activity to an individual's professional development plan. 
Likelihood the activity will lead to betterment of the volunteer program. Preference given to managers of volunteers (paid or pro bono or volunteer) who

have not received Professional Development Funds within the 12 months. 
are not supported by Corporation for National & Community Service funds.

Funds awarded are public monies and, therefore, government regulations on allowable uses apply to awards.

Application instructions

A complete application consists of

an application submitted online with all information filled in, all narrative responses completed, and uploaded letters of support as well as one of the items listed in #4 below. Applicants can use this template (PDF) to prepare. When information is ready, use the online form.
a letter of support from the applicant's supervisor that certifies the individual's work includes responsibility for volunteer management; 
a letter of support from a colleague or agency leader that provides insight on how the professional development will benefit the individual and the program or educational setting; and,
the agenda, course content, or other description of the professional development activity. This is submitted using 2 fields in the online form.

NOTE:  Incomplete applications will not be considered for funding.

Submission instructions

All applications must be submitted online. Use the link below to access the application.

Support letters and other required documents must be uploaded as part of the application. If you need assistance, please contact Michael Ashmore at Volunteer Maine (207-624-7792 or michael.ashmore@maine.gov).

Volunteer Maine, the state service commission, is the state government partner of the Corporation for National and Community Service, the federal agency that administers AmeriCorps, AmeriCorps Seniors, and Volunteer Generation programs.

The Commission builds capacity and sustainability in Maine's volunteer and service communities by funding programs, developing managers of volunteers and service-learning practitioners, raising awareness of sector issues, and promoting service as a strategy to solve local problems.