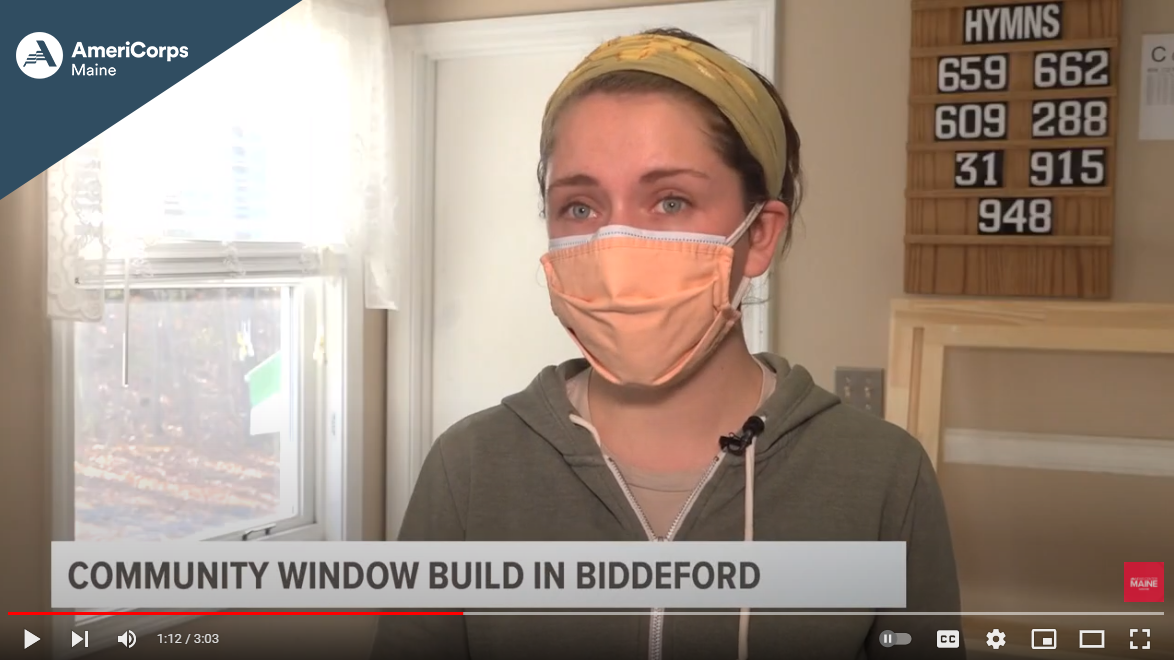 The following blog post is part of our Serve In Maine blog series, where we at Volunteer Maine put a spotlight on AmeriCorps service members to highlight how they use their skills to step up for Maine communities.
Maine Energy AmeriCorps Program (MEAP) members serve communities by promoting energy efficiency. The program's mission is more vital than ever as we enter another cold winter.
One way members help to advance that mission is by rallying community volunteers to assist in assembling window inserts.
This simple solution not only helps to reduce chilly drafts, but helps to cut home heating costs and reduce CO2 emissions.
MEAP members have hosted builds statewide, including in Biddeford where member Phoebe Little coordinated an effort to fashion 87 inserts. The frames are custom fit, ensuring they work effectively for residents who utilize them. Once ready, members then deliver the completed inserts to community members.
This year marked the first window build in Biddeford, which was organized in partnership with nonprofit WindowDressers. GrowSmart Maine also offered up assistance for a second year, providing support for builds in Biddeford and Windham. The MEAP program is sponsored by Maine Campus Compact.
The event also attracted attention from several local media outlets. To learn more about the impact MEAP members make, access media coverage on the Biddeford window build by using one of the links below.
Media coverage
"Volunteers build window inserts in Biddeford" -- NEWS CENTER Maine -- access here
"Volunteer-built window inserts help keep the cold away" -- Biddeford-Sacco-OOB Courier -- access here
"Volunteers make window inserts to help Mainers stay warm this winter" WMTW 8 -- access here
Want to join MEAP in their energy efficiency efforts?
As an AmeriCorps Energy Efficiency Coordinator, you will join a team of AmeriCorps members from all corners of the state who are focused on promoting energy efficiency. As a member, you will help raise awareness about energy efficiency methods, recruit participants for Energy Education events, organize light weatherization services in your local community, and connect participants with energy conservation resources. Members will work on energy efficiency action plans that address environmental challenges in particular communities and design events and services accordingly.
Use the following link to access more information on Service Year -- click here.
Categories
AmeriCorps
Service Stories
Volunteer Leadership