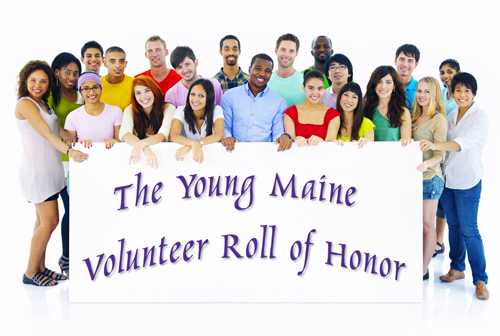 The youth Roll of Honor is a statewide effort to show appreciation to Maine youth who go above and beyond in terms of the time they devote to serving their communities.
***PLEASE NOTE: The 2021 nomination window has closed.***
Normally this event would be held in April, but due to a year like we have never seen, we have decided to shift the nominations to include the calendar year of COVID-19 response, with the event held in June. Hours will be counted from March 1, 2020 to February 28, 2021. The number of hours required for adults has been reduced due COVID and the required social distancing throughout the year.
Any local organization can nominate someone who meets the criteria: town office, school, nonprofit or public agency. There is no cost to the nominator or person honored thanks to civic minded sponsors.
Criteria

The Young Maine Volunteer Roll of Honor recognizes volunteers age 18 or younger who meet the following criteria:

devoted 25 hours or more of volunteer service to the community during the past twelve months (March 1, 2020 – February 28 2021) preceding nomination deadline. Note charitable giving (i.e., participating in walkathons or other events to raise money) and court-ordered community service may not be counted.
service hours are documented by the program(s) or organization(s) with whom the volunteer served.

Recognition

Individuals added to the youth Roll of Honor will receive:

A Governor's Awards for Service and Volunteerism certificate signed by the Governor with the person's name and total hours of service during the prior year.
A commemorative medallion

Submission Deadline and Instructions

***PLEASE NOTE: The 2021 nomination window has closed.***

Be sure to read the instructions, which are included on the form. Nominators must provide a brief description of the young person(s) service.
Submit a nomination using this form (MS Excel). Save the completed Excel file with your organization's name in the title+YMRH. Example: Loomishighschool.YMRH.xls
Attach the file to an email and send to Kelsey.preecs@maine.gov
All information requested must be provided in order for the nomination form to be considered complete. Incomplete forms cannot be considered.
Nominations will only be accepted electronically and no other supporting documentation will be considered. 
Each youth or group attending the recognition event must be accompanied by at least one adult. 
QUESTIONS about the nomination process may be directed to Kelsey.preecs@maine.gov