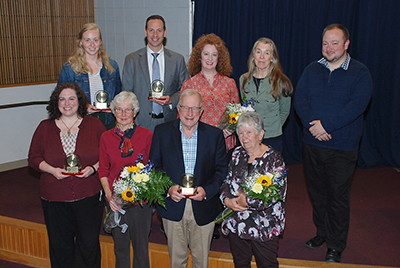 Shine a light on the volunteers who get things done.
General nomination information
Nominate an individual, team, public or nonprofit organization, or business that exemplifies service to the community. 
Awards cover public, community, and national service.
Gather up the information needed, including letters of reference.
Fill out the online nomination form (see links below).
Don't wait! You know time flies by!
Submit by 11:59 pm on March 10, 2023.
Nominees selected to receive an award will be asked to attend a ceremony in April. 
Below find information on award categories, eligibility guidelines, and the nomination process.
Individual and Team Awards

These four awards recognize individuals and teams whose significant volunteer contributions serve as inspiration to others. Be sure to review eligibility guidelines further down on this page.

Maine Volunteer of the Year

Recognizes an individual who has committed significant time and effort to improving the life of individuals or the community through volunteer service. Over the years, this person consistently stepped up and pitched in whenever help was needed. 

Young Maine Volunteer of the Year

Recognizes a person 20 years old or younger who, through volunteer service, has demonstrated a strong commitment to improving the life of individuals or the community and, by example, shows the meaning of "active citizenship."

Outstanding National Service Volunteer 

Recognizes an individual participant in Maine AmeriCorps or AmeriCorps Seniors who has completed at least one year of service and demonstrated outstanding commitment to service by exceeding the requirements of their normal service assignment. 

Outstanding Volunteer Team

This award recognizes a team of volunteers (family, employees, friends, club or association members) who committed significant time and effort to improving the life of individuals or the community through volunteer service. Fundraising is not considered a volunteer activity for the purpose of this award.

Awards for Organizations

There three awards recognize the role community institutions -- public, for profit, and nonprofit -- play in a thriving volunteer sector.  

Outstanding Employee Volunteer Program 

Recognizes an employer that maintains a formal workplace volunteer program and a corporate culture that inspires and equips employees to volunteer and make an impact in their communities. Charitable donations and fundraising are not considered a volunteer activity for the purpose of this award.

Outstanding Non-Profit Volunteer Program

Recognizes a volunteer program operated by a non-profit organization (501(c)3), school, municipality, or other unit of government, which has made significant changes and improvements in challenges or problems faced by the community. 

Service Enterprise of the Year

Recognizes a Maine public or non-profit organization that transformed its culture and operation into a certified Service Enterprise and now strategically engages volunteers in leadership and other skilled volunteer roles so there is greater organizational efficiency and expanded ability to achieve the mission.

Guidelines and Eligibility

Please read these carefully because they are the basis for accepting or rejecting nominations. 

Nominees for all organization and individual categories must have active volunteer service during the most recent three years.
Nominees for Youth Volunteer of the Year must be age 20 or younger.
Individuals or teams that volunteer as part of a workplace volunteer program, internship or for course credit are eligible.
Individuals nominated under the National Service category (Foster Grandparents, AmeriCorps, AmeriCorps*VISTA, Senior Companions, etc.) must have performed service "above and beyond" their normal duties and have completed at least one year of service.
Any recipient of an individual or organization award during the past three years is not eligible for consideration. 
You can nominate more than one individual and/or organization; however each nomination must be submitted on a separate form.
Information contained in your nomination form will be used for event publications and released to the media and elected officials. Please be sure the nominee is aware of this.
Nominees may be self-nominated. 
Nominators are expected to notify the person or organization they wish to nominate before submitting a name for consideration. 
Incomplete nominations (questions not answered, data fields skipped, text of recommendation letter missing, etc.) will not be considered. 
An individual, group or business may only be nominated for one category with the exception of Maine's Roll of Honor. For example, an individual nominated for Volunteer of the Year may also be nominated for Roll of Honor if they contributed 500 hours of service to a specific organization or program in the prior twelve months. 
If a nominee is selected, the Commission will need to communicate with the award recipient and nominator by email. Please be sure to include accurate emails in the nominations submitted. 
Board members, staff and the family members of Volunteer Maine or sponsors of the event are not eligible to receive any individual awards or take part in the nomination process.
Outstanding Non-Profit Volunteer Program nominees must provide their EIN which will be used to confirm their nonprofit status.

Note: If nominations submitted in a particular category do not meet award criteria, no presentation is made that year.

Nomination Instructions

All nominations for individuals, teams, and organizations must be complete and received through the appropriate online form.

Submission deadline is 11:59 pm on March 10, 2023.

General Instructions

Nominations must be submitted online.  Two letters are required for each nomination. Support letters can either be uploaded into the online form or submitted by entering the letter's text in the appropriate field. Contact information for each author must appear in the form where requested. Nominators should retain the original letter until the selection process is completed.

To help with nomination preparation, a sample of each form is provided below as a download. It is not a fillable form.

Nominators can use these samples to gather information and write responses to the questions. You are strongly encouraged to prepare everything in a document so you can cut/paste text into the online form. It is not possible to save your work and return at a later time. Likewise, if you compose directly into the online form, your internet connection may time out without you realizing and your great work could be lost.

Specific Instructions: Nominations for Organizations

Use THIS LINK to download and prepare the organization nomination form. Remember it is not a fillable form. (PDF) Note: this sample has pages for every category but the form you will complete is shorter.
To submit the nomination, use this ONLINE FORM link.

Specific Instructions: Nominations for Individuals or Teams

Previous Award Winners and Photos

2022

Watch the ceremony replay:

Honored recipients:

Maine Volunteer of the Year: Charlie Frizzle, Brunswick
Young Maine Volunteer of the Year: Charlie Austin, South Portland
Outstanding Volunteer Team: Great Bay Services, Sanford
Outstanding Volunteer Program: St. Andrews Auxiliary, West Boothbay Harbor

2021

Watch the ceremony replay:

Honored recipients:

Volunteer of the Year: Luc Nya, of Saco (Chair of the Board of Visitors at the University of Southern Maine)
Young Maine Volunteer of the Year: Shawn Jiminez, of West Gardiner (Gardiner Area High School Civil Rights Team and Interact Club)
Outstanding Volunteer Team: The Vaccine Volunteer Assistance Team (Southern Maine Area Agency on Aging, of Biddeford) 
Outstanding National Service Volunteer: Clara McCool, of Portland (AmeriCorps Resilience Corps/Greater Portland Council of Governments) 
Excellence in Youth Service Development: RayeAnne Desoto, Gardiner Area High School
Excellence in Volunteer Administration: Delilah Poupore, of Biddeford (Heart of Biddeford)

2019

Outstanding Nonprofit Volunteer Program Award, Literacy Volunteers of Bangor (Bangor)

Outstanding Volunteer Team, Medication One-on-One Team (Southern Maine Area Agency on Aging (SMAA), of Scarborough)

Service Enterprise of the Year, Mid Coast Hunger Prevention Program (Brunswick)

Volunteer of the Year, Mike Wisecup (Windham)

Excellence in Volunteer Leadership, Jan Cerabona (Elliot)

2018

Outstanding Non-profit Volunteer Program Award, Freeport Community Services (Freeport)

Outstanding National Service Volunteer, Alex Schin (Ellsworth)

Volunteer of the Year, Howard Bliss (Brunswick)

Youth Volunteer of the Year, Ruthie Gusler (Phillips)

2017

Outstanding Non-profit Volunteer Program Award, Grace Interfaith Food Table (Preque Isle)

Outstanding National Service Volunteer, Megan McCue (York)

Volunteer of the Year, Julie Abbott (Gorham) 

Youth Volunteer of the Year, Olivia Spelman (Falmouth)

2016

Outstanding Non-profit Volunteer Program Award, Partners for World Health

Outstanding National Service Volunteer, Natalie Landry (Portland)

Volunteer of the Year, Barbara Belanger (Rumford) 

Outstanding Public Sector Volunteer, CarltonBeckett (Mechanic Falls) 

Youth Volunteer of the Year, Jada Lin (Pittston)

2015

Outstanding Non-profit Volunteer Program Award, New Vineyard Public Library  

Outstanding National Service Volunteer, Silviano Senecca (Windham)  

Volunteer of the Year, Gail Hart (Harpswell)  

Outstanding Public Sector Volunteer, Kenneth Dow (Corrina)  

Youth Volunteer of the Year, Brianna Cynthia Jack (Baileyville)