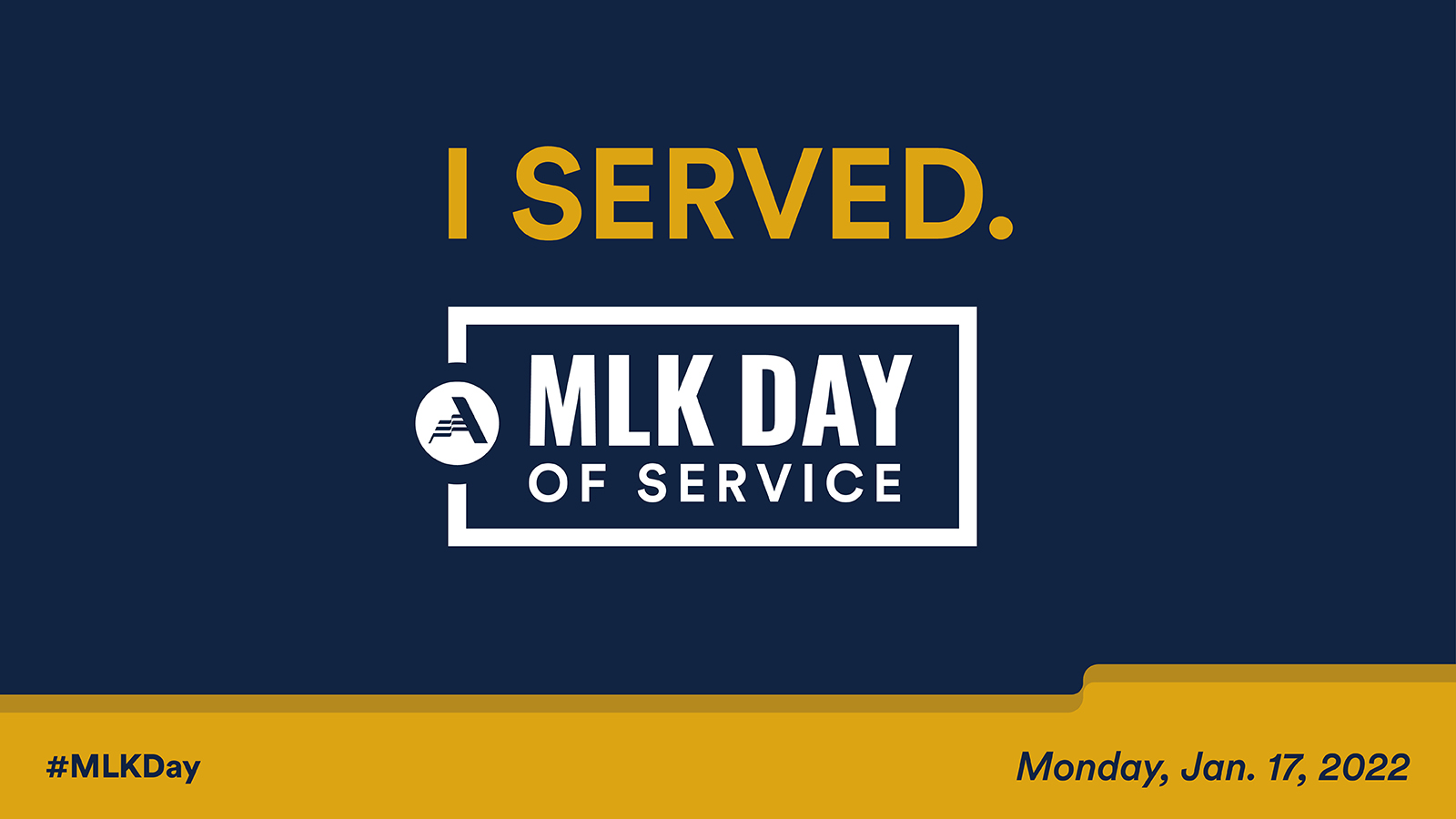 Since 1995, the annual observance of Dr. Martin Luther King, Jr.'s birthday has been a National Day of Service. Promoted as "A Day 'On' not A Day Off," it is an important time for Mainers and all Americans to take action in response to life's most persistent and urgent question: 'What are you doing for others?"
This year, AmeriCorps members and volunteers throughout Maine set out to continue this long-running tradition of providing service to others while honoring Dr. King's legacy.
Read on to learn about some of the MLK Day of Service projects hosted in Maine. For more information on AmeriCorps programs in Maine, please visit the AmeriCorps page of our website -- access here.
Please check back for updates, including additional project recaps and photos!
AmeriCorps Five-to-Ninety Five
The AmeriCorps Five-to-Ninety Five team chose to begin an ongoing project that exemplifies the concern Dr. King evidenced for all marginalized people.
In honor of MLK Day, members began developing a senior-oriented newsletter. The newsletter will include recent news from the Van Burren, Maine community, flashbacks of town history, interviews with seniors at community sites, service opportunities, and a way for community members to submit their own content and opinion pieces.
The newsletter will be written in both English and French. It will be distributed at locations frequented by the senior community, such as the Borderview and LaPlante Heights housing complexes in Fort Fairfield and Van Buren, respectively.
The AmeriCorps program envisions opportunities to collaborate with a translator, nursing home activity coordinators, senior housing directors, the Meals on Wheels coordinator, the town manager and the food pantry director, among others.
AmeriCorps Nine-to-Ninety Five is sponsored by the Town of Van Buren, Maine and the Van Buren Resiliency Project.
Information courtesy of David Cote, Director of the Van Buren Resiliency Project
AmeriCorps Resilience Corps
The AmeriCorps Resilience Corps, sponsored by the Greater Portland Council of Governments, chose to collaborate with Maine Needs for this year's MLK Day service project.
On MLK Day, AmeriCorps members partnered with local volunteers to sort through and organize donations. Participants also fulfilled requests submitted by caseworkers, teachers, in home visiting nurses, and community organizers on behalf of their clients for clothes, books, home wares, baby supplies, and other items to meet basic needs.
The Resilience Corps tells us that they served Maine Needs on MLK Day because the organization believes in solidarity, not charity – that every Mainer deserves to have their basic needs met, and that every Mainer, regardless of background, can contribute to helping make a more just community a reality.
Information courtesy of Julia Breul, Resilience Corps Program Manager
First4 AmeriCorps
Throughout the week leading up to MLK Day, First4 AmeriCorps members read books and implemented follow-up activities in their infant/toddler and preschool classrooms. The books were chosen to represent Dr. King's vision and hopes for America. The activities chosen were designed to help solidify these ideas for the children's learning.
It is the belief of those involved with the First4 AmeriCorps program that the best way to further Dr. King's mission is to help the youngest among us understand the importance of love, hope, equity, fairness and community.
First4 AmeriCorps is sponsored by the Kennebec Valley Community Action Plan and Educare Central Maine.
Information courtesy of Abbie Giallombardo, First4 AmeriCorps Project Coordinator
Maine Conservation Corps AmeriCorps program
This year, the Maine Conservation Corps AmeriCorps program collaborated with Augusta-based Fresh Starts for their annual MLK Day service project.
Maine Conservation Corps members spent time on site at Fresh Starts sorting donations, moving furniture, cleaning, and helping out in any way possible. The goal of the project is create a more welcoming feel for community members who take advantage of Fresh Start's services.
Fresh Starts collects, sorts and stores gently used or new household items to redistribute to community members in need. 
Use the link below to access photos of AmeriCorps members serving at Fresh Starts on the Maine Conservation Corps Facebook page.
Maine Conservation Corps is sponsored by the Maine Department of Agriculture, Conservation, and Forestry.
Information courtesy of Deidrah Stanchfield, Program Manager for Environmental Stewards, Maine Conservation Corps
Categories
AmeriCorps
Service Stories