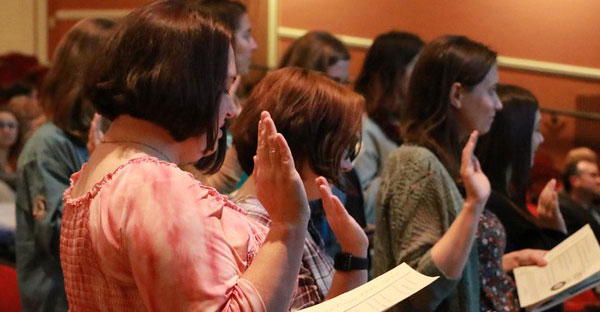 In the Fall each year, soon after the start of the traditional AmeriCorps program year, the Commission gathers newly serving and continuing AmeriCorps members, as well as AmeriCorps Alumni, for the annual AmeriCorps Launch in the Hall of Flags at Maine's State House.
In recent years, Justices from Maine's Supreme Judicial Court have led the attendees in the AmeriCorps pledge, affirming their commitment to service in the community.
Welcome to the 26th class of Maine AmeriCorps members!
On Nov. 18, 2020, we celebrated and offered well wishes to more than 50 individuals who will spend the next the next year providing direct community service to Maine! Miss the 26th annual Maine AmeriCorps Launch Ceremony? View the replay below.