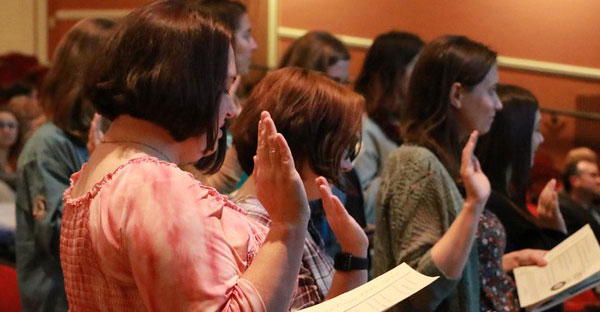 Overview
In the Fall each year, soon after the start of the traditional AmeriCorps program year, the Commission gathers newly serving and continuing AmeriCorps members, as well as AmeriCorps Alumni, for the annual AmeriCorps Launch.
In recent years, Justices from Maine's Supreme Judicial Court have led the attendees in the AmeriCorps pledge, affirming their commitment to service in the community.
Relive the 27th Maine AmeriCorps Induction Ceremony
Thank you to our AmeriCorps alumni speakers, Maine Supreme Court Associate Justice Andrew Mead, Commission Chair Jenni Tilton-Flood and to all those who tuned in to our live stream to help welcome and celebrate the 27th class of Maine AmeriCorps members.
Watch a the replay
Access a full replay of the 27th Maine AmeriCorps Induction by clicking the video player below.