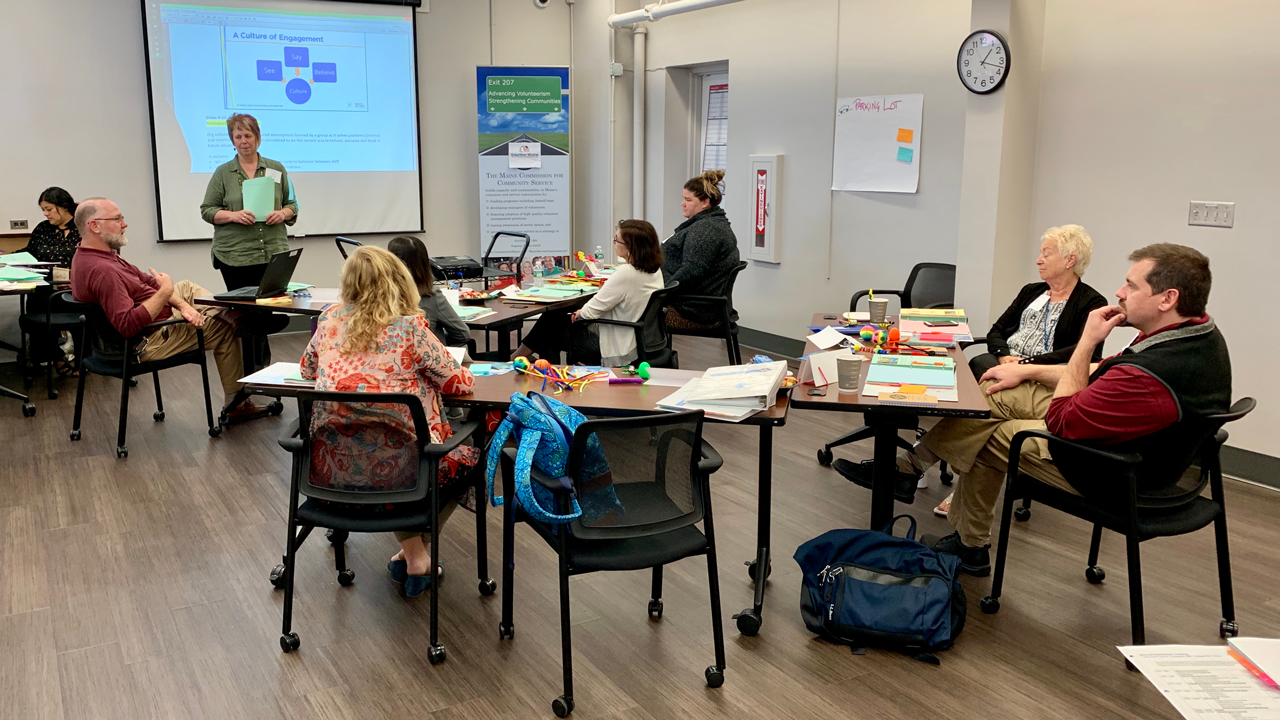 Managing volunteers is often an invisible role in nonprofit organizations, or it is a small part of someone's overall responsibilities. In recent years, volunteer managers have begun to assert themselves, gaining the attention and respect of agency directors and other department heads.
The field of volunteer management includes the most obvious functions of recruiting, matching, and managing individuals who contribute to the work of a nonprofit at every level - from clerical and housekeeping functions to leadership roles at the board level.
Often, today, managers of volunteers run projects and programs; they support their program with technology; they manage risk and develop policies and procedures.
Increasingly, managers of volunteers, whether paid or unpaid, are becoming leaders in their agency and in their communities. As more agencies calculate the value of volunteer time, they recognize that they could not operate without the commitment of their volunteer force.
The networks listed below bring together managers and staff from volunteer programs. To join a network in your county, just contact the person listed. To start a network in your region, contact Michael Ashmore, Training Officer, at the Maine Commission for Community Service for advice and help.

Androscoggin Volunteer Administrators (AVA)  AVA is a professional networking group that meets monthly in the Lewiston/Auburn area and provides support and resources to those who work with volunteers. Contact: Heather Chandel, Coordinator of Volunteers, SeniorsPlus, 207-513-3710 OR Susan Hedrich, Director of Volunteer Services, Central Maine Medical Center, 207-212-5451.  
Eastern Maine Volunteer Coordinators (EMVC)  Eastern Maine Volunteer Coordinators is a peer to peer network in Penobscot & Hancock County for managers of volunteers. Meetings are held at 10am on the third Wednesday at the UWEM office in Bangor, and third Thursday at Ellsworth City Hall,  of every month and are free and open to all!. Contact: Meredith Alexander, United Way of Eastern Maine, (207) 262-6939.
Franklin Volunteer Network The network is an opportunity for managers of volunteers in Franklin County to connect, provide advice to peers, share lessons learned and more. Open to managers of volunteers in Franklin County. The network is hosted by the United Way of Tri-Valley and meets in person quarterly, rotating among member locations. Contact: Nichole Ernest, United Way of Tri-Valley, (207) 778-5048
Greater Waterville Area Volunteer Administrators (GWAVA) GWAVA is a professional peer support group of local volunteer managers that serves Central Maine. GWAVA meets every 3rd Friday of the month at Noon at the Bricks Coworking & Innovation Space (10 Water St #110, Waterville, ME 04901).  For more information or to connect with the members of GWAVA please visit facebook.com/GWAVAME
Portland Area Volunteer Administrators (PAVA)   PAVA provides professional networking and training for managers of volunteers through monthly meetings. Open to managers of volunteers in Cumberland County.    Contact: Karen Stephenson, (volunteer@unitedwaygp.org), United Way of Greater Portland, (207) 874-1000.
Volunteer Administrators of Midcoast Maine (VAMM) VAMM is a professional networking group in the midcoast area for managers of volunteer to connect and learn from each other.  We meet primarily in the Bath area. Contact: Mariah Hinteregger, United Way of Mid Coast Maine,  (207)443-9752.
York County Directors Of Volunteers in Agencies (DOVIA)   Since 1985, the DOVIA has provided information, support and professional growth opportunities to individuals who manage volunteer programs. This dynamic group meets on the second Thursday of each month from 8:30 - 10:30 AM at locations throughout York County.   Contact: Jason Ketterick, Manager of Volunteer and Youth Engagement, United Way of York County, (207) 985-3359

Emergency Response and Recovery. Volunteer programs that help meet community needs after floods, ice storms, and other emergencies can prepare by learning about the protocols, policies, and procedures used by officials. FEMA has a series of no-cost online independent study courses to prepare program staff.

Volunteer Engagement Certificate:: The University of North Texas has a group of online short courses specifically for volunteer program staff. This link goes to the full catalog. Scroll to "Volunteer Management" for a series of courses. Fees are about $35 each.

Risk Management. The Washington DC-based Nonprofit Risk Management Center has14 online risk management classes. Fees are $29 for one course with discounts for multiple courses ($19 for 2-9, etc.). The Volunteer Risk Managment course is free. To take it, click here.

Social Marketing. The federal Centers for Disease Control (CDC) developed an online guide and design tool for use by their grantees and partners. It is very valuable for any program managers whose volunteers are trying to change something in the community (literacy, health, waste reduction, energy consumption). The tool is no cost and is called the CDCynergy Social Marketing Tool.

Professional Development

Volunteer Maine, the state service commission, supports professional development of managers of volunteers by awarding funds to cost-share their educational or training activities.

Examples of supported activities are online courses, educational conferences, seminars, workshops, or preparation for professional certifications that relate to the Competencies for Managers of Volunteers.

Under a cost-share award, recipients must cover at least 25% of the expenses and the maximum award is $750. Funds awarded may not be used to provide the recipient with a stipend, living allowance, or reimburse an employer for salary. Recipients may direct the Commission to pay the award to either their organization as reimbursement or as partial payment to the institution or business conducting the activity. In any case, funds cannot be paid directly to an individual.

Application Cycle:  Professional Development Fund applications may be submitted at any time.  Applicants should bear in mind that the educational or training activity as well as the requirement to share with other managers of volunteers must be completed by the end of the calendar year in which the award is made.

Eligibility Criteria:  To be eligible for consideration, an individual must be:

employed by a Maine unit of local government, public or private nonprofit, or Maine affiliate of a national charity that engages citizens as volunteers in Maine communities 
OR 
serve in a pro bono capacity in the volunteer program of such organizations with responsibilities that are equivalent to those of an employee (e.g., training, supervision, assessment of volunteers performing service).  
have at least two years of experience as a volunteer coordinator or in volunteer program management. 
have a supervisor-approved professional development plan that identifies specific skills, knowledge, or abilities related to volunteer management that require formal training or education. 
able to complete proposed professional development activity by December 31 of the year in which the award is made. 
share information and learning from the professional development activity by  conducting a session at the state volunteerism conference OR contributing an educational article to the statewide newsletter (Maine VolunteerFare), or conducting a webinar hosted by the Commission.

Selection:   
All applications will be reviewed by Volunteer Maine staff. Recommendations for awards will be presented to the full Commission for approval before any recipients are notified. The task force or Commission are not obligated to award any funds and may make awards that are less than the amount requested.

Selection decisions will be made using the following criteria:

Relevance of the activity to Competencies for Managers of Volunteers.
Relevance of the activity to an individual's professional development plan.
Likelihood the activity will lead to betterment of the volunteer program.
Preference given to managers of volunteers (paid or pro bono or volunteer) who
-  have not received Professional Development Funds within the 12 months.  
- are not supported by Corporation for National & Community Service funds.  
Funds awarded are public monies and, therefore, government regulations on allowable uses apply to awards.

 Application Instructions:

an application submitted online with all information filled in, all narrative responses completed, and uploaded letters of support as well as one of the items listed in #4 below. Applicants can use this template (PDF) to prepare. When information is ready, use this online form.
a letter of support from the applicant's supervisor that certifies the individual's work includes responsibility for volunteer management;
a letter of support from a colleague or agency leader that provides insight on how the professional development will benefit the individual and the program or educational setting; and,
the agenda, course content, or other description of the professional development activity. This is submitted using 2 fields in the online form.

NOTE:  Incomplete applications will not be considered for funding.

Submission Instructions:  
All applications must be submitted on line. Use THIS LINK to open the online form.
Support letters and other required documents must be uploaded as part of the application. If you need assistance, please contact Michael Ashmore at Volunteer Maine (207-624-7792 or michael.ashmore@maine.gov).

Conferences and Seminars

Maine Volunteer Leadership Conference

When: Annually in October on the Tuesday after Columbus Day. 
Maine's only statewide educational and networking conference for managers of volunteers, organizational sponsors of volunteer programs, and board members or funders of volunteer organizations. 

Contact: Volunteer Maine

Volunteer Administrators of Midcoast Maine

When: Annually in April in the Bath area 
A regional conference open to managers of volunteers from all over the state but primarily drawing volunteer program stafffrom the southern and midcoast Maine.

Contact: United Way of Mid Coast Maine, (207) 443-9752

National Conference on Volunteering and Service 

When: Annually in June.
The world's largest gathering of volunteer and service leaders from the nonprofit, government, and corporate sectors. 

Contact: conference@volunteeringandservice.org

Skillbuilders by the Maine Association of Nonprofits

MANP offers a wide ranging series of short training opportunities. At least once or twice each year, there is a session on volunteer management. The current schedule of fees and offerings can be found on the MANP site.